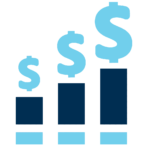 JAMCO Capital Adds Value to Business
JAMCO Capital's clients engage us to raise capital for many reasons including:
growth
acquisition funding
management buy-outs
debt refinance
shareholder liquidity
recapitalization
Unlike many consulting firms, JAMCO has access to its own pool of funds that it can make available to certain qualified businesses.
However, should your business' capital needs be outside our internal investment mandate and/or scope, JAMCO Capital can source capital from high net worth individuals, banks and financial markets including fund managers who make start-up and small sized investments.
Whether using our own funds, or other sources, we are experts at identifying the best combination of funding to achieve our clients' goals.  We position your business to attract the lowest cost of capital and find partners that can add value to your business in more ways than one!