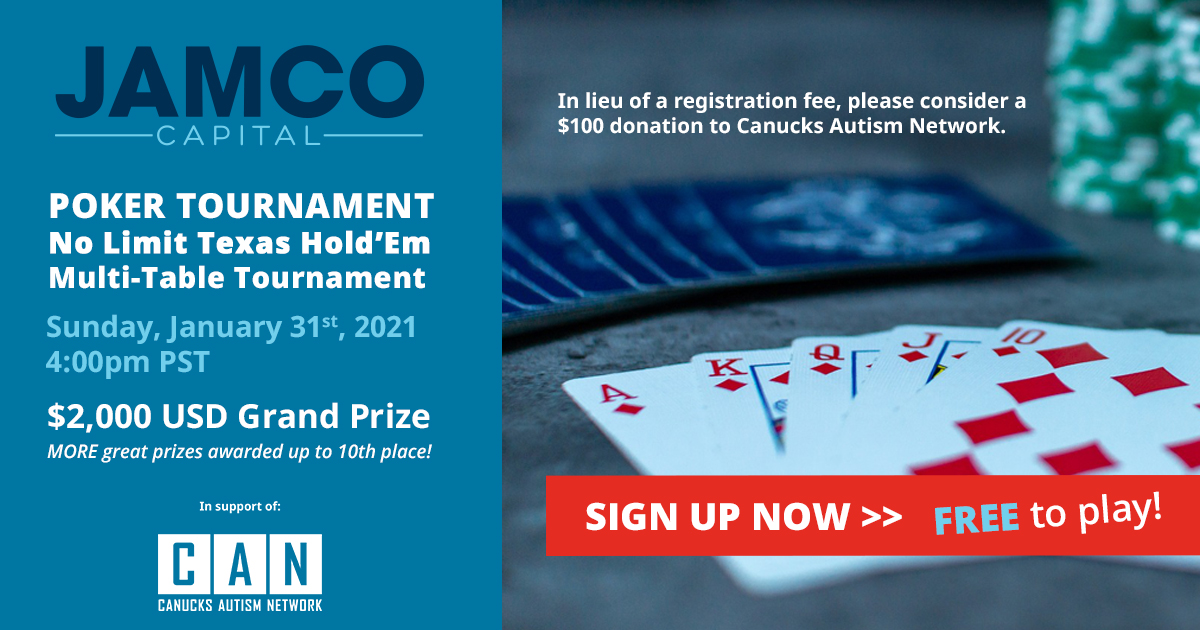 Welcome to the JAMCO Capital Poker Tournament in support of Canucks Autism Network.
If you have any issues, please contact jamco-can@winningpokernetwork.com to ask for assistance.
Please follow these 4 simple steps to play in the tournament:
1- Install software and open an America's Cardroom Account.  Start the download by Clicking Here (skip to Step 2 if you already have an account).
2- Register for the tournament under the 'TOURNEY' tab, then click 'PRIVATE' and the 'ALL' (see image below), then look for 'JAMCO-Can Charity Poker Tournament' (scroll to Jan 31) and click 'Register'.  The password is : puckluck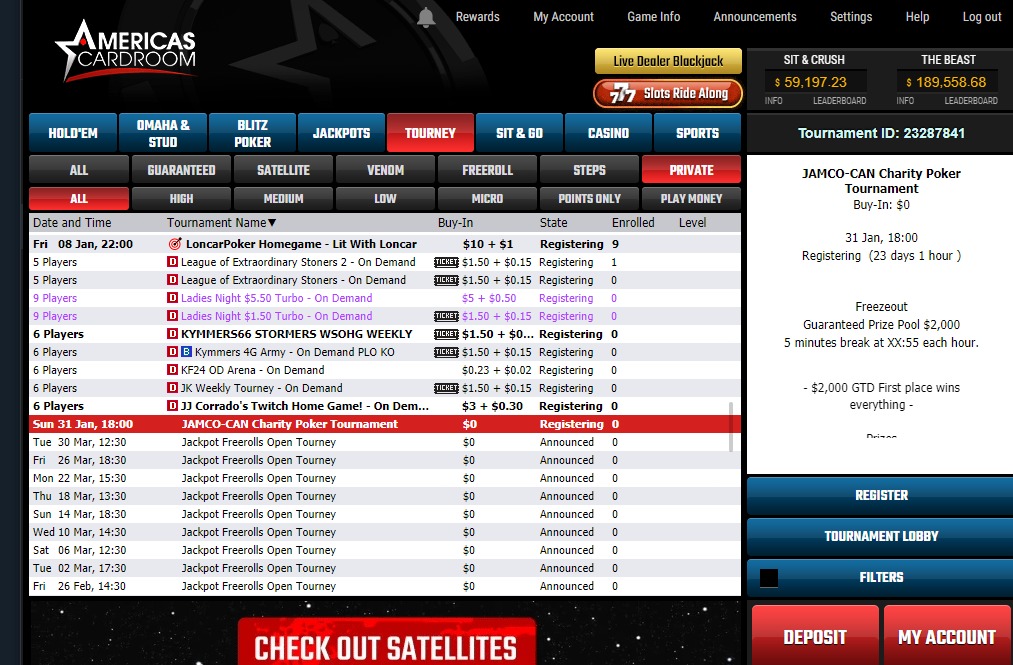 3- Make a suggested $100 donation to Canucks Autism Network – Click Here.*  Charitable tax receipt provided.
4- Day of event:  Login to your account at least 10 minutes before the tournament start time on January 31 (4:00pm start, Pacific/Vancouver Time). Go to the "JAMCO – CAN Charity Poker Tournament" lobby (same place you registered for tournament above) and wait until prompted to take your seat.  GOOD LUCK & HAVE FUN!
BONUS:  Familiarize yourself with the poker software by playing in a Freeroll tournament in advance of the JAMCO-CAN Charity Poker Tournament.
Prize List
1. USD$2,000 (donated by America's Cardroom)
2. Elias Pettersson signed jersey
3. Quinn Hughes signed jersey
4. Bo Horvat signed stick
5. Jacob Markstrom signed stick
6. RYU Camo Quick Pack
7. Bottle of La Stella Chardonnay
8. Bottle of La Stella Chardonnay
9. Tyler Myers signed stick
10. Brock Boeser signed puck
Please contact events@canucksautism.ca if you have won a prize to claim it.  Shipping costs may apply. Prize must be claimed within 5 days of tournament end date.
* While this step is not necessary for the FREE to play tournament, it is much appreciated and something that we hope you will consider doing to support CAN.  We suggest a minimum donation of $100, but any amount is appreciated.
** This tournament is intended for adult audiences only (must be age of majority in your province to play) and does not constitute gambling since there is no money at risk from the player.  Prizes are awarded on skill based basis to the winner of the tournament.  Any winner will be required to show identification and prove age of majority.